Perhaps one of the most important care aspects that you must decide upon prior to getting your new pet, your ferret's cage is its home and safe space. While there are plenty of viable, amazing do it yourself options on the internet, let's keep things basic and have a look at some of the best commercial cages on the market today.
The Basics
When looking for a cage, there are a few things you need to keep in mind to help ensure your selection is the best it can be:
Sizing: At the absolute minimum, a ferret's cage needs to be twenty inches long by twenty inches wide by forty inches high, though bigger is certainly better. This measurement is recommended for a single ferret and each additional will require more space to accommodate its individual needs. Think of it as an apartment: a one bedroom might be fine for you alone but if you get a roommate they will probably want some space of their own, too. Each additional "roommate" requires more space within the cage.
Flooring: When choosing a cage, opt for one with a flat bottom. While some may come with "easy clean" inserts that are cross hatched wire or checkerboard wire, these are not safe for your ferret's feet. In fact, if its foot becomes trapped or injured, they could end up losing toes or have painful, infected abscesses form on their feet that may require surgery and result in permanent disability or disfigurement. Always go for a flat, smooth bottom free of any sharp areas or bent edges.
Doors: The doors of the cage should lock well and feel secure. Your ferret is a very smart animal who can escape easily if you are not vigilant about the security and stability of their cage. Inspect prior to purchasing a cage for holes or gaps and be sure to always latch the door firmly to prevent any grand weasel escapes that could result in them getting into something potentially harmful or breaking things throughout the house (they are rather mischievous, afterall).
The Best of the Best
Touted as one of the top cage manufacturers in the world with mass produced products, Prevue Hendryx lines are almost always quite the successful endeavor. You can tell they put a lot of thought and effort into each cage and genuinely care about the well being of the animals they service. Due to this, the mix of quality and price simply cannot be beat, especially when it comes to their ferret products.
The Black Feisty Ferret Cage is a hit, just like most other Prevue products, and hits every mark to indicate a high quality, ferret friendly cage. At thirty one inches long, twenty inches wide, and fifty four inches high when placed on its accompanying stand, this product surpasses the minimum housing requirements by leaps and bounds.
Additionally, this cage includes some enrichment items, including ramps, platforms, hammocks, and a removable grille (that you should opt not to use). These all add together to create, excluding the grille that poses a potential foot health hazard, four levels of play and comfort. The platforms and ramps are all made of plastic, making them easy to clean and disinfect, as well, which is definitely an added bonus. Plus their non-porous nature will help prevent lingering ferret musk funk from becoming overwhelming, which can happen with wood or similarly composed cage add ins.
The cage also has two locking, escape proof doors to help keep everyone safe and comfortable and a removable debris tray that locks in place to minimize mess and make cleanouts a breeze. All in all, this product is a solid cage that deserves considerable regard.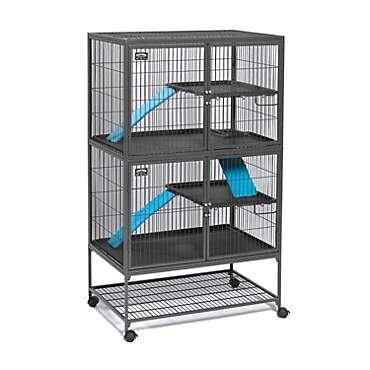 If you have more than one ferret, this cage makes for a great choice for a number of reasons. First off, the dual floor stylization helps ensure that each ferret can get a bit of private time if they so desire it, minimizing the risk of fighting or irritation. Additionally, the comfortable, covered ramps make going from one level to another safe and fun, helping prevent foot injuries and other concerns.
The solid pans offer sturdy play areas that take up the entire cage with no gapping or wasted space, maximizing your pet's usable area and ensuring they have access to all areas of their cage at any given time via easy access ramps and easily climbable surfaces.
The cage is extremely easy to assemble and has locking casters to allow easy movement with minimal disruption of your pet's day to day life. The full width doors also make for easy access to clean the cage or access your pets, creating a seamless transition time between play and cage time.
With measurements clocking in at thirty six inches long by twenty five inches wide by sixty two point five inches high, this cage is massive and a fantastic choice across the board if you can swing the slightly higher but well decided price point.
Another jumbo cage suitable for multiple ferrets, the Ferplast Ferret Tower is a highly underrated cage that has numerous features and customizable attributes that make it perfect for new and well versed ferret owners alike. The durable metal cage is bite proof and features easy open, locking doors to prevent escapes and accidents.
At twenty nine point five inches long, thirty one point five inches wide, and sixty three point four inches high, this cage is absolutely massive, making it suitable for multiple ferrets or a spacious home for a single adult.
The deep pans on each of the two levels helps to prevent messes and keep your bedding of choice well contained within the cage, ensuring your pets can burrow to their heart's content without dumping half of their bedding onto the floor!
There is also a full one year warranty and a pretty cool added bonus: a top opening door to allow you to reach the uppermost levels of the cage with ease! I seriously do not understand why more people are not talking about this product! It is truly fantastic.
If you are looking for something affordable but safe and durable and can get past the weird name of this product, the Yaheetech cage is a fantastic budget buy.
For under a hundred dollars, you can get a stable, safe cage with multiple levels. Though it is not as large as some other cages, this one is adequate for a pair of ferrets due to its sizing specifications. At thirty two inches long, twenty two inches wide, and forty eight inches high, this is more than accommodating for a solo pet or pair.
Plus, the company does not skimp on the accessories despite having a lower price point. The cage comes with a hammock and three ramp ladders. The only serious downside is that the ladders are cross hatched material based but this can be remedied with padding to help cushion your ferret's feet or a simple do it yourself covering project.
A staple brand in many small animal owning households worldwide, Kaytee creates some of the best bedding and food on the market today in the affordable price range categorization. This carries over to their multi-level cage product, which is a fantastic starter cage.
Though this is not the most durable of cages, it is a great place to get started and is nice for single ferrets or even pairs if they are young in age. Any more than that cannot fit due to the cage being just twenty four inches long by twenty four inches wide by forty one point five inches deep.
The cage does come with some pretty great bonuses, like tubes, ramps, and hammocks. All in all, this kit may not be the greatest to ever exist but it will do the job and makes for a great first cage since it is easy to clean and does not require a lot of fussing.
Related Questions
What type of cage is best for a ferret? In general, you need a cage that meets the size requirements (20X20X40) and safety considerations (locking door, flat walking surfaces, etc). The materials can vary, as some are solid metal and others do have plastic bottoms. Ferret cages are not an overly complex topic and as long as they are safe and sturdy, you should be fine. It is recommended that you avoid wood or other porous materials when selecting a cage, as these can hold in urine and musk stink, which can become rather strong and imposing. You want something spacious, safe, and easy to keep clean, odor free, and tidy.
What do ferrets need in their cage? In general, the basics are: climbing levels, bedding, beds, hammocks, food containers, and water bottles. Ferrets are naturally curious, though, and do well with lots of toys and enrichment items. They also love to burrow and hide so fleece and other blanket-like materials are great choices, as are crinkle sacks and other hiding toys that will keep them entertained and comfortable. Litter boxes are also good if you wish to litter train your pet, as they minimize mess without detracting from too much space in your pet's cage.
How often should you clean a ferret's cage? Like all small animals, ferrets are a bit messy and stinky. To keep things clean, try spot cleaning your pet's litter and cage every single day and deep cleaning and replacing bedding once a week for single ferrets and more frequently for multiple. If it smells bad, it has been too long between cleanings. Be sure to keep everything nice and tidy to make your pets as happy as they can be!
Conclusion
Ferret cages are not complex; they need to be safe and sturdy while providing enough space for your beloved weasel to romp and play. There are plenty of good options out there so look around and find one that suits your pet's unique needs!